Day 28 of Walking
Hello everyone,

You must be praying harder as we did not get rained on today. We arrived safely in our albergue in Arca before the rain started. And we are splurging on a washer and dryer for a change, so the weather won´t keep our clothes from drying. All in all, we are very happy campers.
Today we walked about 19 km, or 11 miles. We walked through a lot of trees today. Here is one photo of today´s walk. Our book said there was Mass at this church at noon, but when we got here the sign said they only have Mass on Sundays.
We have uploaded two more videos from earlier this week for you to watch. One is of us praying the Rosary and one is of the cows going by.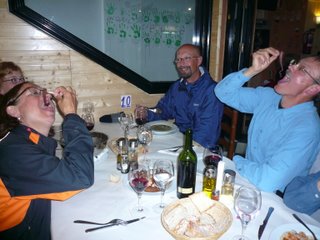 This area is known for a couple of specialty foods. One is almond cake, which we have all tasted and enjoyed. The other is "pulpo," which is octopus. Most of us have tasted it, and some of us enjoyed it more than others. Last night Ruth ordered a plate of pulpo. Here is a picture of her & Tom eating a couple of tentacles. (ugh.....)
Here we are enjoying our morning cafe con leche before praying morning prayers.
Over the past four weeks we have heard some comments that we thought you´d enjoy. So here they are, in no particular order:
"This soup is different. What is tripe, anyway?"
"I tried to push my earplugs in until they met somewhere in the middle."
"Tom, is this a hill or a mountain?"
"Shall I wear my blue fleece today, or my blue fleece?"

"Only 25k? Why the easy day?"
"How many days can you wear your socks before you´re required to wash them?"
"You´re not a real pilgrim until your underwear is hanging from your backpack."
"That´s not rain coming in, it´s just clouds." (followed quickly by a huge downpour)

"Dos cafe con leches, por favor."
"Here, have a poisoned cookie."

If we come up with any more, we´ll post them.

Tomorrow we plan on arriving in Santiago in time for the noon pilgrim´s Mass. Then we´ll find an albergue and try to post some photos. Thanks again for all your prayers. We continue to pray for you and your intentions.