Day 26 of Walking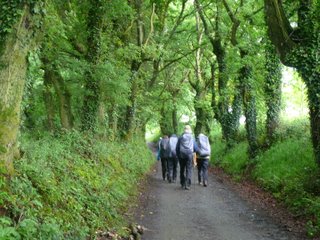 Hello everyone,
Today´s walk was easier than the past couple of days. Still, we started right off the bat with a 20 minute hike uphill that got us REALLY warmed up. Funny how a 20 minute hike uphill doesn´t seem like such a big deal anymore...
As far as the weather goes, you guessed it. Rain. We decided our best investment for this trip were the rain suits. Here is a picture of us walking through a woody area of the camino today.
Every morning we have a "holy huddle" where we pray before walking. This morning, as we were huddling a woman walked by. She heard us, stopped, and blessed herself. We hope that we are reminding people of God and prayer and the true meaning of pilgrimage. Hopefully any seeds like that which are planted will bear fruit in the future.
We now plan on going to dinner and then 8 pm Mass. Off to bed early after that. We have been challenged to see how many "3"s we can come up with since we only have 3 more days of walking. We will work on it as we walk. (Here´s one: "Dios le bendiga" three words which mean God bless you.)
We pray for you and your intentions every day. Please continue to pray for us. God bless you!
Los peregrinos.