Day 29 of Walking
Hello everyone,
Thanks for all your prayers - they are paying off as Sunday, Monday and today´s walks went very well. They were tough and long, but we did it. Tomorrow´s walk is easier, only 15.6 miles. Keep the prayers going as we´re feeling beat up after these three days, but the end is in sight.
We started off early and were joined by a Canadian, Bernie. He is Catholic and joined us in a couple of Rosaries. His wife told him about the camino 15 years ago and they planned on walking it one day, but she died of a heart condition 6 years ago. So he is making it by himself and thinking and praying for her along the way. Here he is walking with us. (This is the second man we have met who has lost their wife and are doing it in their memory.)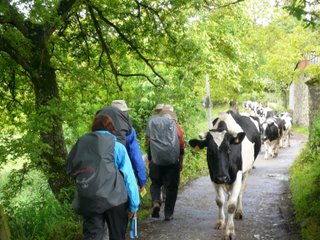 We have shared the road with other pilgrims, bicyclists, and cows. Today we met two groups of cows as they were switching fields. After you pass the cows you have to be very careful as to where you step, if you know what I mean....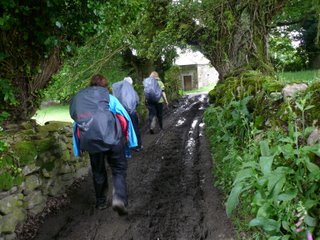 There was a lot of mud today as it´s been raining most every day this month. Here is a picture of us trying to not step in mud that goes over our shoes.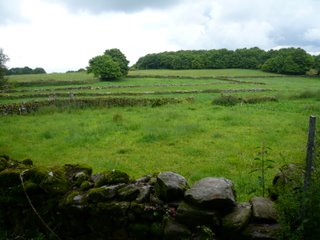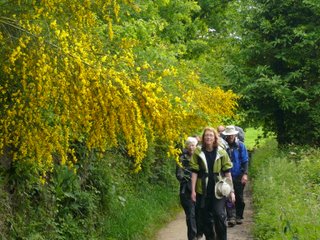 Here are also a couple of pictures of the countryside, and the beautiful yellow flowers that seem to be everywhere.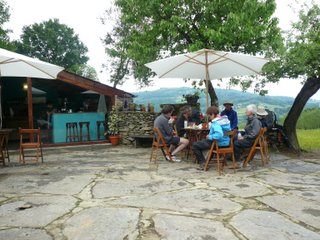 We stopped in the afternoon for a short break and got talking with a couple of men who were making the camino by bicycle. One man was from Spain, and the other was from Ireland. Turns out that his last name was McDonough, too! Except he spells it wrong (McDonagh). What are the odds that we´d run into a McDonough while on the camino?
We were able to go to Mass tonight, which is a special blessing since we are used to daily Mass and miss it when we don´t get there. Tonight they had the Rosary before Mass, and the priest also said additional prays before a beautiful statue of Our Blessed Mother. Many of the statues here have real clothes and real hair. It is great to see so many pilgirms in Mass.

Thanks again for all your prayers and comments on the blog. We continue praying for all of you and your intentions. Please continue to pray for us. God bless you!
Los peregrinos.